Experience Barnsley are celebrating a 1970s style Christmas this December with a 1970s themed living room in the museum complete with craft activities. To coincide with this we thought we'd delve into Barnsley Archives collections to share more #BarnsleyChristmas memories
Christmas In Darfield
We begin with a heart-warming short video of a Darfield family celebrating Christmas in the early 70s. Do you have films relating to Barnsley? We're always on the look out to expand our film archive email archives@barnsley.gov.uk Subscribe to our YouTube account as we're planning to share more films in 2022.
Christmas In Athersley
This photograph was taken at Athersley Junior School in 1970 by Roy Sabine, a local photographer. Do you recognise anyone in the photo? Please get in touch with us if you do, share your festive pics and memories with @BarnsArchives on Twitter
Little Red Riding Hood at Barnsley Civic
The cast from the production of Little Red Riding Hood at Barnsley Civic 1970-71:
Left to right are:
Clinton Ford (Squire Humphrey), a well-known singer/comedian/entertainer;
Duggie Chapman (Dilys Dumpling), who was dame/ugly sister for four Civic pantomimes before stopping performing to concentrate on producing. He was impresario and occasional performer for pantomimes and traditional music hall-type shows in many parts of the country and was awarded an MBE in 2009 for services to light entertainment;
Ken Goodwin (Simple Simon), a big-name TV comedian in the 1970s;
Kathryn Jones (Red Riding Hood), a 16 year-old Barnsley schoolgirl.
Christmas In Worsbrough
If you went to Lobwood Junior School in the 1970s this album should bring back lots of memories! Head to @BarnsArchives on Twitter to share your nativity and other #BarnsleyChristmas photos and memories with us.
Christmas Shopping
We've searched The Barnsley Chronicle archive to share adverts from some iconic Barnsley shops. Maybe you went to the popular santa's grottos at Butterfields or the co-op. Bailey's on New Street claimed to sell 'everything but the baby' Did you know that the first Tesco in Barnsley opened on Albert Street East in 1967? Barnsley Archives holds the complete Barnsley Chronicle archive dating back to 1858. Visit our website for more information about opening times and booking an appointment https://www.experience-barnsley.com/our-archives
12 Days of Eldon Street Christmas
We've created a series of videos linked to the 12 Days of Christmas song, linked to Eldon Street stories, watch the short videos on YouTube https://www.youtube.com/playlist?list=PLbCSGIKEXyrh7k4DUaBYLaK3OEwlRFene
Merry Christmas From Barnsley Museums!
For even more memories of Christmas in Barnsley visit the Barnsley Museums website www.barnsley-museums.com/christmas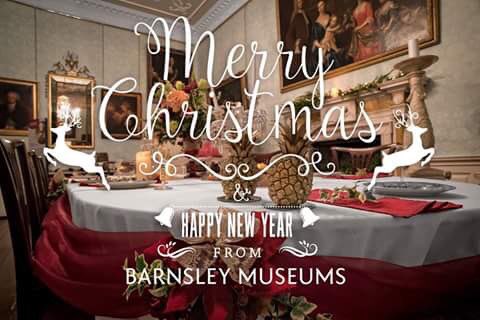 From all of us at Barnsley Museums we wish you a merry Christmas and happy new year. There's lots happening at Barnsley Museums over the festive period. Visit our website for event details and revised opening hours
Read our latest blogs